Interested in selling Instagram account?
If you have an account with real followers and engagement, TooFame is the perfect place to sell it. With TooFame, selling your Instagram account has never been easier – we offer a seamless process and a team of experts to guide you. But here's the best part – you don't have to wait long months for a buyer, we'll buy Instagram account directly from you! Our team of experts will evaluate your account and offer you a fair price based on its value. To get started, simply fill out the form below and submit your account for evaluation. If we are interested in purchasing your account we will be in touch with you.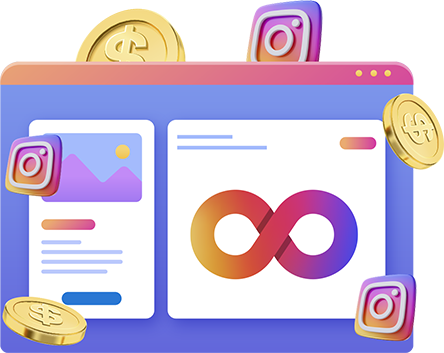 How To Sell Instagram Accounts on
Here's a step-by-step breakdown of how the process of selling your Instagram account with us works. By following these simple steps, you can smoothly navigate the process from start to finish and enjoy your earnings in no time:
01

Fill out the Sell Instagram Account form and submit your account.
02

If we are interested in purchasing your Instagram account, we'll reach out to you via email or WhatsApp to discuss payment details and confirm account ownership.
03

The next step will be for you to share your Instagram account password and associated email password with us. This allows us to secure the purchased account effectively.
04

That's it! All that's left to do is sit back, chill, and enjoy your earnings.
Why Should You Choose TooFame to
Sell Your Instagram Account?
Customer Feedback & Reviews
We're dedicated to providing top-notch service when it comes to selling Instagram accounts. Don't just take our word for it – see for yourself what our clients have to say about their experience with us.
Submit Your Review
Bought 2 accounts from TooFame with good engagement. Fast transaction and smooth deal. Good experience.
Account was delivered on time, suppport is very helpful and always quick to reply. Legit accounts for a decent price, massive time saver for me.
So I bought account from TooFame, and I totaly like this sh!t.
Just purchased. Great quality account. Thanks!
I was skeptical at first, but I was finally able to sell my Instagram account to TooFame. The whole process was easy and it went smoothly. I will definitely use TooFame again in the future!
I want to say this is the exact service I was looking for. The price point is great for the things you are receiving.
Very swiftly delivered, all worked fine. Speedy replies to a couple of qustions, this is great customer service. Excellent value for money, highly recommended.
I've ordered two accounts this friday, received them within 4 hours after sending the payment. Everything works fine and no problems at all! I can say only good words so far
Been working with these guys from the start. Great support and service. 10/10 Would recommend!
I recently used TooFame's platform for an Instagram account buy - it was secure and hassle-free.
Selling my Instagram account was a breeze. Highly recommend for anyone with an Instagram for sale.